Al fresco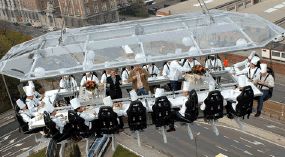 In terms of gradual exposure therapy for acrophobics, I'd say this one is right off the scale!
At
Dinner in the Sky
in Belgium, 22 guests are seat-belted (phew!) into chairs that are connected to a dining table while a crane hoists them up to 50m. Chefs and waiters then present the meal from a pit in the middle of the table. The session can last for 8 hours.
Somehow I just lost my appetite...