The Old Chook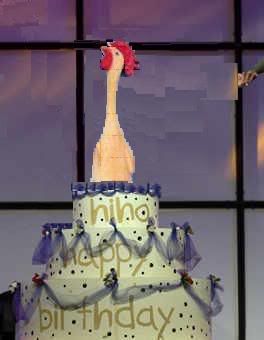 Yep, another cutting-edge Photoshop effort from TCW.
*Say, where's the sarcasm font characteristic on this blogging thing?*
Still, cut me some slack. It is my birthday and I am feeling a little rough around the edges.
Cake? Not for me. For one thing, this is my first birthday as a coeliac chicken and gluten free cake largely has the consistency and taste of a brick. Secondly, I am supposed to be on a three day carbohydrate binge for a medical test tomorrow but had to stop. Carbs apparently make me sick.
So. Help yourself to the cake. It's only been sat in by one rubber chicken.