Dirty Barry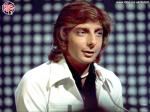 Move over Clint Eastwood. There's a new sheriff in town.

Fed up of those troublesome youths in your neighbourhood? Want them moved right along?
Who ya gonna call?

Seems a Sydney suburb has the answer to all your prayers.
For the next six months, a local council has decided to subject the ears of its youth to the entire catalogue of Barry Manilow.

Constant Copacabana and other assorted Barry titles through loudspeakers in car park troublespots is expected to 'kill' the atmosphere and move the youngsters on.
Effective possibly. Humane??? Questionable.
The chief danger of TheCleaningWoman in a carpark is not so much in the loitering and playing up, it's in the parking. Yep. It's tragic. Therefore, it could be in the council's interests to keep this area CleaningWoman free.
Now, personally, I have nothing against Barry (though I hasten to add that my music collection is not that eclectic) so this isn't going to cut it.
So, local council, may I suggest a selection of the following:
My Heart Will go On
Eye of the Tiger
Top of the World
Tie a Yellow Ribbon
Ring my Bell
Like a Virgin
Who let the Dogs Out
Yep, any of those would do it.
What would move you right along?