El pollo de goma 857-4953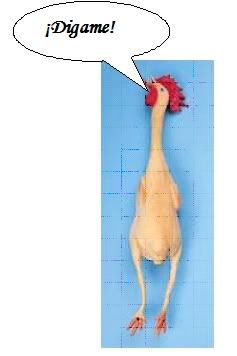 And,
no
, please don't try and ring that fake phone number. I don't want some poor individual inundated with calls about chickens, yet alone
rubber
.
You see, I was reading this morning about the town of Cedillo in Spain. Apparently, it's so common in Spanish country towns to use nicknames that people can't remember anyone's real name. It seems everyone knows 'El Gordo' ('the fat one') but Juan Lopez draws a blank.
So the town has resorted to creating their own phone book based on the nicknames.
What fun! And a great idea for those celebrities who are adept at mislaying their phone books....of course, it doesn't help with stray sex videos, unless the nickname comes with a penchant for wearing masks and other paraphenalia of disguise during the act.
What would be your favourite celebrity nickname?
The wickeder, the better.
My favourite is "Three Strikes" (Robert Downey Jr.)
On a personal note, the devil in me expects to spend the day reworking my own address book.
Grumpys*d
. You know who you are.