Lordi, Lordi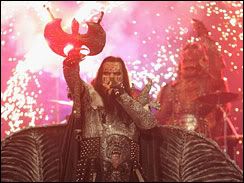 This weekend was the Eurovision song contest.
And the person above in the latex is the winner from Finland. Saunas and latex? Not a good combination in anyone's book. Definitely don't try that at home.
Anyway, that's Mr. Lordi to you, from the group Lordi to be precise, whose song "Hard Rock Hallelujah" finally dragged Finland out of the 'nil point' abyss and into first place. Fin-ally.
No pun intended. After all, that would be an exceptionally weak one.
Well, okay, then. You got me. I admit to being that cheap.
So, hallelujah, indeed. And in the spirit of celebration, I have included a few useful Finnish phrases. Please feel free to use wantonly. You never know where they might get you. A free rollmop at the very least I'd say.
Be very careful using 'The Monica' though. Sometimes a cigar is, well, not a cigar.
Käyhän että tuon kannettavani saunaan?
Now I know the significance of this event means little to American readers who I don't believe have ever been unfortunate enough to be exposed to this. However, given the way the definition of Europe is rapidly expanding in terms of who's eligible to enter this competition, you might find yourselves included next year.
After all, the USA is closer to the hub of Europe that several of the 'European' countries entered. So I'd thought I'd offer a few useful hints of how to organise a winning entry:
Write a song with a silly song title
Past winners have included 'A Ba Ni Bi' (1978), 'Ding Dinge Dong' (1975), 'Boom Bang-a-Bang' (1975) and my personal favourite 'Diggi Loo-Diggi Ley' (1984).
Oho! Tota noin.. Eihän se vaa ollu' sun ajokoira?
Costume
Female clothing should be as non-existent as you can get away with. Alternatively, clothes should be able to be ripped off. Hair should be big. Makeup tarty.
Odota, anna minun ajaa se pois.
Only men with copious dark body hair, a penchant for a) kaftans b) MC Hammer type silk harem pants or c) gold lame should apply.

The Molvanian entry for your viewing pleasure

And, my final Finnish offering. The Monica.
Mielestäni teillä on söpö presidentti.
And now it's goodnight from me and it's goodnight from him. At least I think that's what that finger means.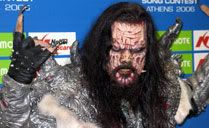 1 Is it OK if I bring my laptop in the sauna?
2 I'm awfully sorry... was that your ferret?
3 Wait, let me shave it off.
4 I think you have a cute president.